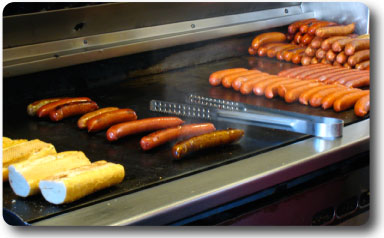 top dog FRANKFURTER
All beef - kosher style
GARLIC FRANKFURTER
3/4 beef, 1/4 pork, fresh garlic
BOCKWURST
1/2 pork, 1/2 veal, milk, eggs
KIELBASA (POLISH)
2/3 pork, 1/3 beef - hearty
CALABRESE (ITALIAN)
Pork, paprika, chili, fennel — semi-hot
HOT LINK (LOUSIANA STYLE)
Beef and four kinds of pepper — h-h-hottt
BRATWURST (GERMAN)
Pork, marjoram — genuine old world taste
LEMON CHICKEN
Chicken, fresh lemon & garlic — low salt, low fat, no preservatives
SMOKED CHICKEN APPLE
Chicken, juicy bits of apple — low salt
MANGO with JALAPENO
Chicken, mango, jalapeño pepper
THE WIENIE (VEGGIE)
Wheat Protein, Bell Peppers, Fennel, Eggplant and Fresh Garlic. No preservatives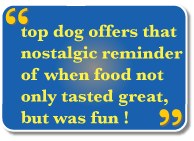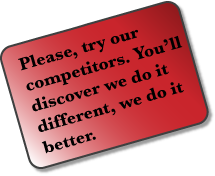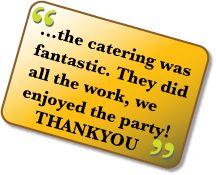 top dog grew out of a boy's love of sausage, a staple in his German immigrants' New York home over the WWII years. Steaks? Tubesteaks! His paper route to a well-mixed neighborhood assured that Italian, Polish, even Hungarian sausages were soon no strangers to that developing appetite and palate. Nor had he far to go to a cart or stand offering kosher style "Franks", usually steeped but better off the griddle.
Goodness! With kraut n' mustard, please. Raw onions, ketchup (not "catsup") and mayo were unheard of on hot dogs. Burgers maybe ... oh, but that was far away and another day ...more